Welcome back, History Fans! We hope this summer is giving you plenty of opportunity to explore history, especially since here in the United States it is unfolding before our eyes! With the downfall of the ol' Stars n' Bars and the federal approval for everyone to be miserably married, there is plenty of issues to discuss. We here at History Books, however, have decided to discuss the history of the Icelandic saga. Relevant, right?!
For today's discussion, we will be pulling from Margaret Clunies Ross's brilliant and helpful
The Cambridge Introduction to the Old Norse-Icelandic Saga
. I know what you're thinking: god, could this be any more boring?! The answer is, yes, it could. But we'll save that for next week when we tackle Beowulf.
Charlize Theron - eat your heart out
Part of the reason we are talking about this subject is because of an idea that I had while reading some of the sagas. Harald Fine-hair is painted in the certain sagas as a tyrant. While he was certainly a formidable opponent, the sagas seem to exaggerate his brutality. Why? I posited that maybe the saga authors, feeling bummed out after they lost their independence to Norway in the mid-13th century, wrote in anger, or were romanticizing their past. In order to figure out if this were true or not, I thought it best to dive back into Maggie's book and look into how the sagas were created.
Aside from being a remarkably unique genre of literature, the sagas give us a window into everyday life during the Viking Age. Some sagas describe actual historical events. Yet we have to approach them with trepidation. As well shall see, these stories were never meant to be reliable, historical fact. They instead grew from a tradition of entertainment. That is not to say that it's all made up! On the contrary, many names, places, and events can be verified. Yet there is also an element of supernatural, of folklore, and of fiction mixed in. Clunies Ross describes the sagas as occupying, "a grey area between fact and fiction, springing in variable parts from known events, but also shaped by the creative imagination of its composers." As an invaluable link to the Viking Age, it is incredibly important to understand where the sagas came from and how we should read them today.
ARE WE HAVING FUN YET?
Seriously, though: The sagas that exist today are written compilations that originated out of an oral tradition. People told stories for entertainment. What is interesting about the Norse-Icelandic oral saga, which more than likely originated from a Northern Germanic tradition, is that the oral storytellers would have only told portions of an overall story.
Listen: the medieval audience would have been totally aware of the story being told- they were based on common knowledge. So the performers could tell a part of the overall story, adding and subtracting elements of the narrative where appropriate. Can you see how this would take shape? The over all story, which Carol Clover dubbed, "the immanent whole," would have existed in the minds of the medieval audience, in the collective memories. They knew the stories. The performer's job was to tell it in a new and interesting way. Professor Harl compared it to free jazz: there is a basic underlying structure yet it is up to the performer to lay his or her creative interpretation on top of that structure. The immanent whole existed in potential form but was rarely, if ever, performed in totality.
Two traditional Icelandic bards working out the kinks in their sagas
The performers would tailor a story to their audience. As a musician, I can totally get behind this. As a band, we would tailor our performances according to who our audience was. For instance, if it was a younger crowd with a lot of energy, the set tended to be more upbeat. If it was a laid back older crowd, the set might take a more mellow turn. And even the immanent whole seems to fit this analogy! As a band, there are certain songs that contained inside jokes or certain appeal to a specific audience. Our set list would look different playing in front of strangers as opposed to playing in front of our friends and family. They understood the back story of the jokes and songs. We could potentially cover a song, or make a reference to an In the Face of War lyric that would be appreciated, whereas far from home we'd get a roomful of crickets (the latter was typical of our sets). That is because in our community there existed an IMMANENT WHOLE in our collective cultural memory of certain stories, jokes, references, etc. No "long form prose" exists in any other oral society, meaning that the immanent whole was never told in full until written down.
The conversion to Christianity around the year 1000 brought to Scandinavia and Iceland the resources and the training for literacy and for writing. Previously, the Scandinavians had relied on a runic alphabet to show ownership, for memorial stones, or to give certain objects magical properties. These runes were not used for record keeping or any kind of literature. Christianity not only brought the resources to write but also the Latin alphabet and the possibility of wide-spreading literacy. The oral sagas began to take literary shape in the late 12th century and what is unique is that the were written in the Icelandic vernacular and not the traditional Latin that was popular throughout Christendom.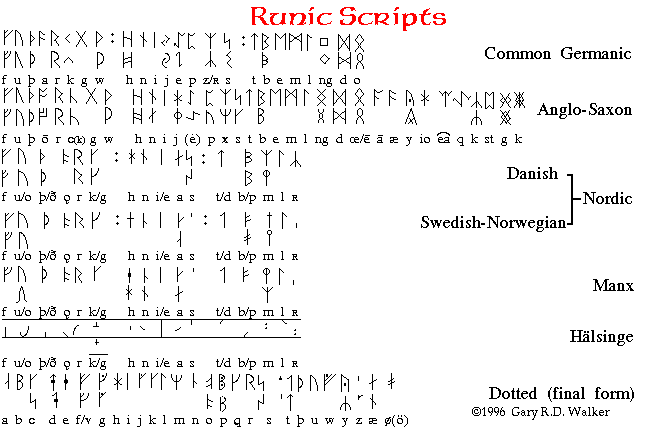 Even if they could read, nobody can make sense of this shit!
The saga-writing phenomenon that came out of Iceland is attributed to a number influences. The saga genre is completely unique and seems to come from the Icelandic-Norse indigenous tradition but also influenced by the new Christian culture and technology. Historical writing and court romance had begun to flourish in Europe, both in Latin and in the local vernacular, in the 12th-14th centuries. Iceland seems to have responded to the surge with its own creative take on memorizing its present and past. There were a couple theories early on in saga scholarship as to how the written saga then developed. One group of people, known as bookprosists, were convinced that the early saga writers had other, now long lost or forgotten texts that they used as sources. Both narratives and poetry were used by the authors in shaping their sagas. Another group, known as freeprosists, assumed that the stories developed out of a lower-class folk art. Neither of these theories satisfactorily describe how the sagas took shape. And, as Margaret Clunies Ross explains, this uncertainty will come define this area of study.
Very few sagas have authors--another missing step in an already unsteady staircase. One of the reasons for lack of authorship is in the nature of the written saga itself. Saga writing was considered compiled and not creative at all. The noble art of the Viking Age and after was, of course, poetry. Numerous styles of poetry is mentioned in a number of sources. Poets found steady work in the royal courts throughout Scandinavia and in the Northern Atlantic kingdoms. As we have already seen, the immanent whole existed only in potential form. The authors of the sagas were simply collecting these already known and recited stories and copying them down in full. The authors themselves probably thought they weren't doing anything all that important!
But there was a huge flaw in the plan. Remember earlier when we said that oral performers relied on variability? That, depending on the performer, the audience, and number of other variables, the known story could take an infinite number of different shapes. These variations can explain why similar scenes pop up in totally different sagas, and why different versions of the same saga differ noticeably. If immanent forms were variously written down by various authors with varying agendas, based on one or more of the various oral versions, no wonder there is not always agreement within narratives! This has caused all kinds of problems in trying to verify which version of the story is truest to its original form and also why it is difficult to trust any of the sagas as a true source.
Placing the sagas in a chronology has been difficult to say the least. Look at what we have to work with! Very few of the manuscripts have survived over the years. So we have a saga whose originally writing can be dated to the 14th century, the poetry it cites can be dated to 12th century, while the surviving manuscript is dated to the 16th century. How do we make heads or tails of this?!
The rare yet popular Saga of the Vomiting Fish
One theory sort of mirrored my original question - were the Icelanders writing out of some fervent nostalgia, spurred on by the events of the Sturlung Age? For those of you unfamiliar with Icelandic history, the Sturlung Age represents the tumultuous 13th century when a number of powerful families, including the Sturlung family, battled for power in Iceland, using what basically amounted to their own private armies. This struggle culminated with losing their independence and being enveloped into a sort of commonwealth that answered to the Norwegian crown. So the theory is that this rocky internal power struggle was the catalyst for a sort of literary explosion. Along with this romantic notion of violence giving birth to a new and exiting literary tradition, was, that because of its nature, the early sagas were more classical and purer to the original form, while the later sagas, especially the contemporary sagas written during the Sturlung Age, as well as the later translated court romances, were considered post-classical and therefore less important and artistically inferior.
This theory is problematic for a number of reasons. The first being that scholars have concluded that the Sturlung Age does not seem to be that radically different from any other time period in Iceland's history. Also, over the years, the later contemporary sags have come to be respected alongside the early sagas of the Icelanders. Another reason is that dating the classical and post-classical is nearly impossible. The theory would have the later court romances as written well after the 13th century. Yet we have some written evidence from one of the sagas of a Latin court romance being performed for King Hakon Hakonarson in the 1220s, a good 40 years prior to the loss of independence in Iceland.
It is easy to romanticize the sagas and theorize that, yes, that tumultuous time in Iceland was the cause of the literary fervor. But there is honestly no way to verify this as true. In fact it so difficult to verify anything because of all the missing pieces that Margaret Clunies Ross begs us not to throw our hands up in frustration and walk away.
One exciting and yet totally inconclusive case study mentions Oddr Snorrason was a monk who is attributed to having written two sagas: one version of the Saga of Tryggvason (of which there are many) and of Yngvars saga, which describes the travels of a man called Yngvarr east into Russia from Sweden. A man called "Oddr the Wise monk" from the Thingeyrar monastery is mentioned in a number of accounts of the life of Olaf Tryggvason. The
Landnamabok
suggests that these two Oddrs are one in the same, a sentiment echoed by Dietrich Hofmann in 1981. A 15th century manuscript of Yngvars saga ends with a statement that Oddr the Wise sent this version of events to be checked by Jon Loptsson, who died 1197, and to Gizurr Hallson, who died in 1206. This means that the original version would have presumably be written before Gizurr died and can there for be dated to very late 12th century/early 13th century. Yet the two manuscripts that we have now, attributed to Oddr are EXTREMELY different. Indeed, Oddr's version of Yngvar's saga contains some very exotic elements that would, in theory, make the story much younger than its counterparts. However, there are at least 26 runestones throughout Sweden marking the graves of people who went east and died with Yngvarr (Invgarr).
One of the many runestones commemorating Ingvarr's failure
How then do we date the sagas, when they describe events from the Viking Age, were written down 200-300 years afterwards, but only survive on manuscripts from the high Middle Ages?!
We keep plugging away, looking at both internal and external evidence. We may never be quite sure if both Oddrs were the same, or which of his sagas were written first, nor who influenced it over the centuries as they copied it down. What does seem apparent is that this marvelous form of entertainment evolved from an oral tradition to an unparalleled written genre. It appears, too, that the different types of sagas were developed side by side instead of the previously discussed "classical to post-classical" categorizing.
And although we cannot use the sagas as an historical source, we can use them, much like Oddr's Yngvars saga, to confirm other sources, like the Swedish runestones. It is a treacherous and slippery path, to walk between the lines of fact and fiction, fishing for motifs, narrative patterns, and character types, doing comparative studies both internally in written records and externally in oral societal norms. But somebody's gotta do it!
I hope this was every bit as exciting for the two of you who feel sorry for me and read this far. Because we love it!
Keep digging, History fans. The truth is out there!